Tennis Lessons For kids Near Me
Important tennis drills for Beginners And Kids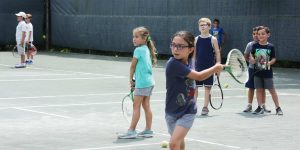 Playing tennis can be a lot of fun for anyone just starting out. However, it can quickly become frustrating if you feel like you're not making any progress or you're not really getting the hang of it. That's why it's important that you do the appropriate exercises for your level. Beginner exercises are also done by top-level professionals around the world, as the essentials are something that needs to be constantly evaluated. A beginner should always go through drills that isolate the basic strokes first and then try a few drills that mix the strokes.
* Show them exactly how to hit the ball with these grips.
* Focus on teaching them backhand strokes as well as forehand strokes.
* Tennis drills for beginners should first teach the backhand as well as the forehand. These two strokes are crucial to your child's progress and are often used in the game.
It is important that the child shows passion and enjoyment in learning the basics of tennis. It is also important to build a fun relationship between the children and the instructor. A non-threatening environment is key. In many hotels, we focus on the basic motor skills needed to play tennis. This includes drills and interactive games with the children to teach the principle of racket, ball, and also the discovery of the court.
Tossing The Ball Forehand And Backhand
The two most important strokes in tennis: the forehand as well as the backhand. In any training session, you should discuss how to hit these shots and do some games and also drills to improve them. Below are two of the most efficient drills. Stand in front of your child and take a few steps to one side. Have a basket of tennis balls ready. Describe to your child the different grips associated with the forehand and backhand. Show him exactly how to hit the ball, preferably with these grip techniques, and then start throwing the balls to him so that he can hit the ball first with the forehand and then with various backhand techniques.
Practicing forehands, as well as backhands alone with a basket of balls, is an underrated method of practicing, in my opinion. I personally actually hit many thousands of balls out of the basket in my youth. At that time, I was unknowingly practicing my fundamentals such as balance, weight transfer, and also proper contact point. I believe that if you can't completely execute a shot from a drop hit and also do it regularly for several repetitions, you will certainly not be able to execute the shots well in the actual live ball change.
At some point, children need to hold the bat and also make an effort to hit the ball over the net. Initially, throwing a ball to a child to hit will probably work much better than feeding a ball with a racket. It just has more control, and the throw doesn't come along as quickly either. Have each child hit three forehands as well as come back in a line. When you have actually experienced the line a couple of times, switch to backhands.
Can You Actually Lose Weight By Playing Tennis?
Before you try to become faster and more effective, you need to build a strong-strength structure. We believe that strength is "king." Having a strong plan is critical for injury prevention, increasing performance, and building a confident player. In our opinion, implementing a strength program for young professional tennis players must be the first step in preparing them for their future development. No matter how good your player is right now, without a good strength base, they will not reach their true potential. We are really passionate about strength training for juniors, and I can guarantee you something: If you don't do it right from the start, you will most likely have problems down the road. Injuries, as well as physical frustration, keep most young athletes from playing.
You should not let money keep you or your children from playing tennis. The price of a racket varies greatly depending on the product and brand, yet there are options for everyone. On the lower end, pre-strung rackets start at around $20. The more elaborate the racket, the higher the price. You can end up paying close to $1000 for a top-of-the-line, fully customized racket. Remember not to overspend.
Don't forget to touch the net with any part of your racket. It is an act of courtesy to shake your opponent's hand before and after the match, so they will surely understand that they are fun to play with.
Despite the fact that learning tennis can be a little overwhelming at first, remember to give yourself time to get used to the racket, the weight of the balls, the dimensions of the court, as well as the basic rules of the game. Every world-class player started small, so take your time to understand everything and give your body space to feel the good that comes from playing a sport.
Ways To Introduce Kids To Tennis
Children are the future of the game, and the only way the tennis industry can compete against all the options offered to young players is by offering fun and also effective programs. These programs need to be designed and also adapted to various skill levels to ensure success, improvement, and also positive social interactions. In kids on the court, you will certainly find dynamic workouts to present and also improve very important parts of the game, beginning with developing a broad athletic base and also progressing to tennis-specific tasks that will certainly aid players to develop seamlessly with the three important phases of children's play: the red ball stage, the orange ball stage, as well as the eco-friendly ball stage.
Clear paths from junior to elite levels. Affordable tennis for kids of all ages and skill levels. We have lessons to improve any skill level. Tennis is a game you can play your whole life.
How can you introduce children to tennis, this will give them confidence and also let them become a professional. This will surely be fun and is the beginning for kids to get confidence and also learn to talk. Example: In China, a considerable number of people are currently playing tennis. They never hit a ball until all variations of visualization exercises are completed. In some cases, it can take several months before they hit a ball.
Does Tennis Help Lose Belly Fat?
For seven years, she was the queen of the tennis courts and ruled the tennis throne. Chris Evert was born on December 21, 1954, in Ft. Lauderdale, Florida, and was hitting tennis balls across that city's public clay courts by the age of five. Her father, Jimmy Evert, worked seven days a week as a tennis pro at Holiday Park, which was renamed the Jimmy Evert Tennis Center, and was looking for ways to be closer to his children. He tossed tennis balls out of a shopping cart and taught little Chrissie and her four siblings the basics of tennis with used racquets.
You recognize when it's time to change your existing athletic shoe when the running pattern loses grip or when you feel unusual fatigue and also pain in your feet, ankle joints as well as back after playing. Overall, it takes about 60 hours of play before the midsole begins to break down. If you often play as well as on hard surfaces, you may need to change them after six months.
You will find that a number of elements contribute to making a pair of shoes comfortable. When buying a children's athletic shoe, you should look for the ideal size and width, as well as elements such as shock absorption, weight, breathability, closure, and more. Shock absorption: you will find that jumping, running, quick stops as well as starts all tend to take their toll on the feet. That's why most athletic shoes are made with some shock absorption built right into the layout. Some of the models listed above have foam midsoles that disperse the shock generated by the impact. Others have gel inserts that help prevent pressure on the system. You can also increase shock absorption by adding a set of high-quality insoles to your shoes.
What Muscles Do You Work Out In Tennis?
Our instructors are top-notch experts who know exactly how to discuss the complex aspects of tennis equipment to make sure it's easy and appropriate for kids. 2 Year age child tennis lessons Beverly hillsides tennis academy provides tennis training for children as young as three years old. Giving a child lessons as well as tennis training is the best way to introduce them to this great sport. Many thanks to tennis, children develop coordination as well as learn to concentrate, improve, expand as well as strengthen muscle tissue. Tennis is a distinct sport that requires stamina as well as work. However, it provides enormous health benefits as well as for overall development.
Tennis can require quick leg work as well as abrupt spurts of intense activity in varying periods of time. These abrupt spurts can take a toll on muscles as well as ligaments that have not been effectively stretched or warmed up.
All good training sessions begin with a proper warm-up. For beginner tennis players, the warm-up should consist of arm, leg, and also back stretches and light cardio activity. Your body needs this light warm-up time to obtain blood flow to the muscle mass and also to cool down the joints. Stretching muscle tissue before exercise helps prevent injury and gets your body ready for the workout.
Great Tennis Exercises For Beginners And Kids
Our team believes that tennis is more satisfying when a player's skills improve over time. Our tennis academy is aimed at kids and youngsters from 4 to 17 years old, with each level designed to help kids build their tennis fundamentals, from drills for footwork to training for competitive play. You're sure to find drills for private or group lessons, singles or doubles, beginner or advanced—private tennis lessons for adults. Practices take place every week, all year round, weather permitting and the sun shining)—group lessons with four or  more players. Tog offers a full program of drop-in drills, as well as personalized lessons for all levels. Tennis Instruction Strategies in this section, you will find tennis instruction strategies that represent the way we conduct our own classes.
Tennis drills describe practicing specific games to become an expert in tennis. Mostly, the basic exercises are suitable for children as well as beginners. On the other hand, there are clearly advanced exercises for the expert. Overall, the exercises specify the specific part of playing tennis.
I Like To Watch Tennis And Also Play Tennis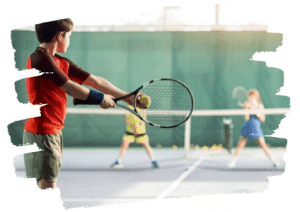 It may seem a little insignificant to you, but whatever form the equipment you use to the shoes, clothing, as well as warming up your body before and also after the game, affects your game significantly. Let's take a look at these beginner tips that can benefit anyone who really wants to play tennis like a pro.
This is the most common stance in tennis. The player's feet are next to the net. They can aim sideways, directly at the net, or diagonally toward the net. This position allows for a high degree of upper body rotation, which can add significant power to the shot. This process is often compared to coiling and uncoiling a spring. The upper body is rotated to preload the muscle system and prepare it to play the stroke: this is the wind-up phase. When the stroke is played, the upper body rotates forward again, which is called uncoiling, and also adds a lot of power to the stroke. A negative aspect of this stance is that it does not always allow for "proper weight transfer and also maintenance of balance" during effective strokes.
Pro Tennis' Missed Opportunity
The best means to improve your game is to master your thoughts. This not only helps you hit the ideal tennis shot but also gives you numerous advantages over your competitors. In some situations, you will be unhappy if you missed a simple shot or can't balance your body. Your annoyance is the biggest opportunity for your rival, which you should never give him. Always play your game with a calm mind and also focus on the ball.
If your child is older than 11 and you are stressed that he or she has missed the boat in terms of tennis opportunities, don't worry. Kids can pick up a racket for the first time at 13, 14, or older, and they can still be great if they decide to get involved – a few of the top pros didn't start playing tennis until they were 12.
Time To Play Tennis
Group tennis lessons for kids can be fun since they will certainly have the ability to fulfill other kids, and also, this kind of direction has a tendency to focus more on actual match play. Most likely, they will use some tennis drills during practice to serve certain skills, but they will additionally allow time for kids to practice actual matches, singles as well as doubles.
While working in South Florida as a sports performance professional, I have discovered many athletes who play their sport year-round. While this has its tangible benefits entering a lot of practice, even more opportunities for competitive play, full-time training, and so on, the never ever decrease pace can be detrimental to the athlete's physical health and wellness along with their mental health. Tennis is a good example of a sport where year-round play is common. The idea that more is better seems to be shared all too often by parents and coaches. On the surface, that sounds like the best approach, but when we look at the research, the fact is that we may actually be doing more harm than good.
I love to address this concern to the parents who come to my local tennis court. If you go to big top-quality tennis websites like Tennis Warehouse and also Tennis Reveal, they categorize as racquets. Let me tell you one point, a child that is nine years old can easily have fun with a racket that is made for an 11-year-old. The weight, as well as the length specifications, do not change in this specification. It is corporate shilling that makes these companies money. Of course, there are exceptions to the guideline, but that goes to the extreme end of the spectrum; for example, kids ages 3-6 can't really handle the longer racquets. Exactly the same is true for racquets made for kids 11 and older; they might not get enough power out of a racquet made for kids 7-10 years old.
Simple Tennis Games For Kids
A popular team-building exercise that is often used at tennis summer camps for kids is the partner ball pass. It's really quite simple: players join together in groups of 2 or more and practice passing the ball from their racquet to another player's racquet. The object of the game is to keep the ball from touching the ground. For younger players who may have trouble keeping the ball on their racket, they can use a bean bag instead.
Over the summer, we've rounded up some great ball games for kids to play with tennis balls, a few simple objects, and a little creativity.
Fun tennis drills are aimed at children and also juniors who are learning exactly how to play tennis. Kids can benefit from special fun tennis drills that teach them the basics of tennis and help them solidify their tennis fundamentals. There are many benefits to doing fun tennis drills for kids to help them learn tennis at a young age. It is crucial that fun, as well as enjoyment, are at the heart of learning for any child being introduced to the game, and a key area that ensures children have a fun time in their tennis advancement is via tennis drills as well as games.
Reasons Why Your Child Should Play Tennis
Tennis can be a difficult game to learn, especially for children. It's hard to hit a moving ball, let alone get the aforementioned ball over the net and right into the court! Most kids who start the game at elementary school age struggle to make good contact because they have little experience building the facility tracking and coordination skills that tennis requires. Getting a child to hit a ball with a racket is difficult. Even experienced tennis players can have trouble with this, so regular parents will find it very challenging, to say the least. The good thing is that you don't have to be a coach to help your child develop their tennis skills.
For many parents, it can be a little complicated when it comes to the specific age at which they should introduce tennis to their children. One of the most common questions I get as a coach is, can 3-year-old play tennis? I always recommend to moms and dads a minimum age of 4. The perfect age to introduce tennis to kids is 5 to 6 years old.
Important Equipment For Tennis Newbies
Discover how to choose the best tennis racket for you. Whether you're looking for a tennis racket for beginners or a racket that will give you the perfect blend of power, spin, and control, let Wilson guide you to find the perfect tennis racket for each individual type of player. As one of the oldest tennis equipment brands in the world, we know that there are different types of tennis players. Our job is to build a racket for each of them. Wilson offers four lines of racquets, each focused on a specific performance benefit, namely accuracy, feel, power, and also control. Once a player has identified what benefit they want from their racquet, we offer different weights and head sizes that allow for additional personalization for each type of player.
For players ready for full-size equipment. Clinics, as well as training academies, offer preparation for high school or tournament competitions, while beginners learn the basics of tennis with our fast-track youth tennis course. Discover more.
The forehand and backhand are essential to keeping a rally alive. Regularly, it is a killer forehand or backhand that can win the point, game, set, or match. Loose rallies to warm up are great; however, even this part of the game can and needs constant improvement. From beginners to college players to professional players, auditory and technical forehand and also backhand strokes are necessary to improve every day. Below are three tips to improve your groundstrokes from counselor Frank Polito, head women's tennis coach at Cleveland State College:
Some programs focus solely on getting kids to enjoy themselves on the court. They believe that if young players feel effective, they will certainly love the game and continue to play throughout their lives. So, these programs teach the skills needed to put a ball in play serve and play a rally, despite proper technique. However, this can cultivate poor practices that lead to irritation, injury, or giving up. Other programs focus solely on children's technical effectiveness. They teach the proper technique of all tennis strokes, so players develop good habits from the start and improve their athletic skills in line with their tennis game. Skill training is often disguised as games to keep students interested. But this teaching method certainly won't always help kids succeed for a few years.
The Martin Method 9-String is a tested as well as a researched system that you can follow for strength and conditioning training. The system is designed the way a typical tennis player needs to feel, look and perform. It is a complete conditioning as well as a comprehensive approach to tennis. The martin technique nine thread will help tennis players work on their weak points. It will certainly additionally aid them to prevent injuries as well as enhance their performance.
Designed for the junior who has made a total commitment to tennis. They have the need to improve significantly and experience an extra competitive environment. Players are expected to maintain a high level of strength, participate in Usta tournaments, and strive for district and sectional placements. Our qualified tennis coaches will certainly work diligently to enable each player to achieve full capacity, focus, and uniformity. Players will deal with their physical fitness to enhance their endurance, strength as well as adaptability. Intensive drills, as well as match play, will also be utilized to strengthen solid hitting structures and also produce positive results. Juniors in the program are expected to practice at least twice a week and participate in the Sunday match play program.