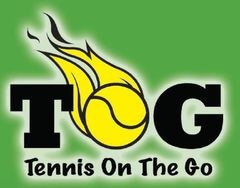 TOG Started in 2005 with one coach and a receptionist, today TOG has 10 coaches and 8 sales associates on our team, and still growing strong. TENNIS ON THE GO is a mobile service/Hence our pros travel to your location.
If you do not have access to a personal court, our staff will work with you in finding one that is nearest to you. But it does not stop there; we service your rackets for you!! We can pick up the racket from your location, and return it in no time! My name is Rony Denis, I'm a tennis pro/entrepreneur. The proud owner of TOG  Who is Rony Denis I am a real person, just like you. When it was suggested that I write a "bio" page, I struggled to narrow it down, I realized how difficult it was going to be.
As one of my partners said, 'you are too mufti-faceted to narrow it down. And he is right. I am a man, a son, a tennis junkie, a husband, a business partner, and a best friend. I am the oldest of 4 siblings with a lifetime of experience to share with you.

My experiences range from teaching tennis and owning a business, to personal and I have a lot of it, experience, I'm told I have a lot of personality too, I'm direct, sometimes too much so, however, it's always with your best interests at heart that's the coach in me. I am a dedicated professional with a big heart and am prone to inspiring others to reach their potential. I'll be honest, back in 2006 it wasn't easy. There was no one to help. Everyone promised the same thing when the fact is that there was no one who considered helping newcomers to learn the basics. I met and learned from a great many people, however, most of what I learned I learned on my own by seeking out the information.

It was not and is still not readily available, until now, until now. Once I realized how simple the process really was, I was determined to turn it into procedures that could be easily duplicated by anyone, a process anyone could follow from a newbie to a seasoned online professional. What do I do? I save you the time and trouble to learn everything I learned. I show you how to use our simple system to market your business, product, or service while building your list and developing multiple streams of income.

I show you how to market yourself and your business in a responsible, professional manner in this sometimes far too impersonal world. I help you realize your goals and dreams by showing you how to take control of your business and put together a marketing system you can understand and build on. None of this is rocket science and there are ways around all obstacles if you are willing to take the time to investigate them and put them into action. I'll help you maintain forward motion and show you how to attract the right people to you. Simple Solutions to Build a Create Income Online You can do it too!

Yes, you really can and I show you exactly how. I don't flower you with fancy words and useless information. I don't just motivate you and make you feel good inside. I offer you a basic beginning that will stay with you and allow you to grow your business to whatever level you want. I help you put yourself in control of yourself and your business. My personal training is second to none. When you read through the steps, you will feel like I'm sitting right there with you.
Coach Rony,